Originally, Old Dead Things was located in Midwest, Wyoming. Then in 2002, we moved forty miles south to Casper, Wyoming. When we originally did shows, the question most often asked was, "Where is Midwest, Wyoming?"
We don't actually have a store. At our home, we use half of the garage for fossil storage and fossil fish preparation. We also have what we affectionately call "the fossil barn," which is used for storage and preparation of ammonites and other Cretaceous fossils. And of course, all around the property we have piles of rocks. Most of our sales are made at fossil shows. We do sell out of the garage and hopefully will sell some on line as well.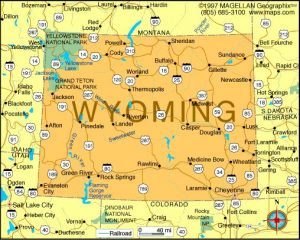 Where is Midwest, Wyoming? First, find Casper, which is central and to the east a bit. Midwest is a little ways to the north.